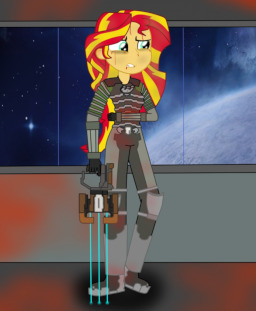 Because the Anon-a-miss has made Sunset suffer, to lose her trust to all her friends, teachers, and the principals because with the reason, she was blamed for the Anon-a-miss. She wanted to go back home, by using the force of her magic, even without the need to activate the portal on the other side of the world, which is Equestria. But after she entered the portal, something unexpected happened. The portal has been malfunctioned and jumped through time into the year of 2508, moths prior before the events of Dead Space. Where she met Isaac Clarke and have helped her and learned to take career as a CEC engineer, since Sunset was somehow to be a fast learner in future technology. Sunset had got through a lot, from events on USG Ishimura, Titan Station, Tau Volantis, which they have a new partner of Earthgov, John Carver, until escaping from Tau Volantis and failed to warned the earth in time. Sunset, Isaac, and Carver somehow manage to teleport the part of the ship they're in and jumped back to the past for escaping the Brethren Moons in time.
It was already one year since her disappearance. Until a part of a ship fell from the sky and Applejack was the girl who found and took care of them by giving them shelter at their house. And she had told Sunset that Applejack doesn't remember her except she was a bully and blamed as the Anon-a-miss. Follow Isaac and Carver to see how they must adapt to the new surroundings they're in and help Sunset to solve her problems left in CHS about the erased memory and Anon-A-Miss. As their dementia striking at any moment of time.
And most of all. Sunset, Isaac, and Carver must make sure that The Markers are not rising at the past they're in now.
---
Give thumbs up if ya like this story.
Artwork by myself
Big thanks to my friend Helljumper206 for being an editor and a co-author of this story.
Knowledge about Dead Space is optional, but highly suggested.
I'm Indonesian so be tolerate, please...

Chapters (13)