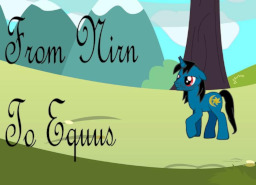 Source
The father-slaying dragon Alduin is slain, fallen at the hands of the Dovahkiin. However, a fatal wound had gone unnoticed, ending their time on Nirn. Thankfully, they had found themselves in a new body, awoken to new possibilities. A second chance to truly settle down, or perhaps to find a worthy hero for a greater threat?
Profanity is up there, though it's light.
Definitively blood (though I doubt it would count as gore, marking just in case) and themes of death, particularly at the start. Most of the tagged themes are pretty light.
Yes, there is an adventure and a slice of life tag. Equal parts, nice balance.
You have been forewarned.
Cover art by me. Made with aid of the Pony Creator found here.
I do apologize, but I am now rewriting the story! Will be a pseudo-sequel so folks can find it and this still.
Chapters (8)