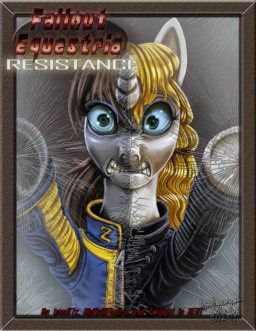 One small change can alter everything you know. One small change, no matter how seemingly insignificant, can change the entire course of history for the better or worse.
Enter Maripony, the Enclave soaring overhead as a monstrous entity screams its death throes, it and the Enclave force annihilated by the Stable Dweller. Very few Enclave escaped that day and lived to see their final fall.
But what if a single officer, in another timeline, had their sky carriage malfunction, thus causing them to miss the departure? Small, insignificant. An officer who had very little to add to the story of the Lightbringer, who was to die a meaningless death in a balefire blast. But if they survived...?
War Never Changes. But the world has.
And Littlepip is dead.
A collaboration with Twilight is the BEST and BioQuillFiction.
Fallout Equestria is by Kkat.
This story may include spoilers of Project Horizons, Pink Eyes, Murky Number Seven and War Does Change.
You can find the wiki page here.
Featured on: 28/01/2019
Prequel stories:
1) Divergence
2) Desolation
3) Oppression
Chapters (8)