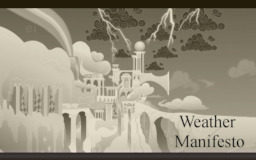 This is the third story in the Newsworthy saga, taking place five months after Source Material.
Ink Well has once more taken up the mantle of investigative journalist, and in the action has caught wind of a string of mysterious disappearances, all pointing him in the direction of Cloudsdale's prestigious Weather Factory, and so he takes it in his own hooves to get to the bottom of it. Are they just rumors? Is there cause in this conspiracy? Can the truth ever fully be known?
One way or another, Ink Well aims to find out.
Note:
This story is slightly darker than its predecessors. You have been warned.
Chapters (6)