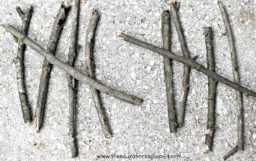 Source
This story is a sequel to Colors
---
I've been feeling empty lately. Not sad, not happy, just... empty. I fake a smile around the girls. I don't know if they notice.
There is something that ends the emptiness. I don't like it, but I'd rather feel pain than nothing. So long as the girls don't notice. I don't need that kind of attention, or worry.
---
AN/ this story contains descriptions of cutting and self harm. It doesn't describe the act, but does describe the aftermath. If you don't read it because of that, I understand.
Chapters (5)