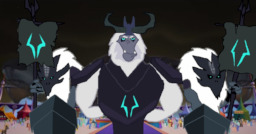 Source
Taking place during the time the Main 6 look for the Hippogryphs, and Tempest and Grubber going after Twilight, the Storm King arrives in Equestria for the first time in his life, making his true grand entrance to the land. While he is alone, he reveals his intentions behind why he does what he does, as well as what sort of villain he truly is.
Note: Even though this will be a very dark and sad story, there will be some slight comedic moments to compliment the contributions of Joe Ballarini, who co-wrote the movie's story with Meghan McCarthy.
This cover art was done by artist Leondude.
Edited by Norm De Plume on January 21, 2021.
Chapters (1)