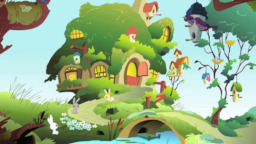 One day, Fluttershy finds a strange looking seal in a nearby lake. The next, she finds a small yellow rat that can create mass amounts of electricity. As the days went on more and more started showing up, all of which seeming lost and scared. It didn't take somepony like her long to realize that these animals were different from those she usually saw, and had no idea where they are. Of course, when a creature is in need Fluttershy knows what to do.
Hopefully she can find enough room for all these strange creatures.
---
This is something very different from what I usually write, but I think we can all agree the best part about fanfiction is that you can take it as seriously as you want. Besides, what's wrong with doing something different?
Pokemon is owned by Game Freak
May contain spoilers for Ultra Sun and Ultra Moon
Chapters (4)