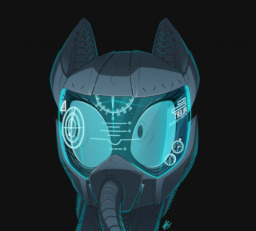 Two hours was all it took for Canterlot to fall. Two hours and one bloody night for a new nation to emerge from the ashes of Equestria. A nation quarantined so that the outside world might survive and contain what was created, nothing remains of but a dark continent of monsters.
As those in the immediate aftermath flee the ravenous terrors of the night, one hundred years in the future, the last remnants of Equestria struggle to keep the bloodthirsty creatures at bay each night. But the shields are finally failing over the last refuge and the lights, their only hope to live to see each new day, will go out. And now the enemy is changing, adapting; they may look like your loved ones.
Or even you.
---
A massive thanks to all the people who have helped with this project since it was first envisioned five years ago. I could not have done it without the gracious assistance of the many talented prereaders, editors, consultants, and readers like you. It has been a long journey, but one that was worth it.
Thank you once again to the artist who commissioned the cover, Hex Floog - Deviant Art - Tumblr.
Thanks is also in order for my editor for a major portion of this project who poured over every word and who always had amazing constructive suggestions for this tale, The Dreaming Writer.
Chapters (8)