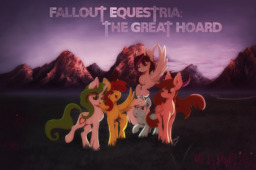 This story is a sequel to Fallout Equestria: Survivor's Guilt
---
There is a legend in Equestria and beyond, about a great treasure hoard left behind by the last of the Dragon Lords Ember. Many have searched for it, but none have found it, either coming back with horrifying tales, or not coming back at all.
8 years after the war with the Enclave, 4 friends come across a map leading them to the first clue to the Great Hoard. Fueled by curiosity and the story of the Hoard's wealth, they set out to try and find it.
But will they succeed? Or will they meet the same fate as so many that came before them?
---
Cover made by Hagallaz.
Set in the universe of Fallout: Equestria by KKat.
Co-written with Megaskullmon.
Chapters (6)