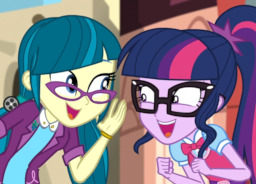 With several best friends having taken part-time jobs in or around the same mall, lunch break hangouts were inevitable.
Juniper Montage and Twilight Sparkle are no different, and an electronics- and media-filled shopping center is catnip to them both as they reflect on themselves and their future...
...with a 55% chance of playful supervillainry.
Part of the Montage Cinematic Universe.
Chapters (1)