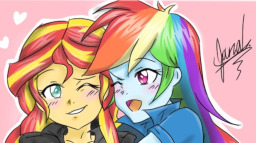 Source
This story is a sequel to The First Step
---
It has been a few weeks since the fall formal. The school has been repaired, Sunset has been, begrudgingly at least, accepted back into the student body, and she even has a few friends.
They all have so much energy to them. They laugh, they tease, the fight and make up. Sunset can't do that. Not yet. It takes too much energy, energy she doesn't have. Being around them is great. They've been so kind to her. They stand by her. Sunset only wishes she had the energy to do the same for them.
-- Cover art by JanaDashie over on Deviant art.
Chapters (1)