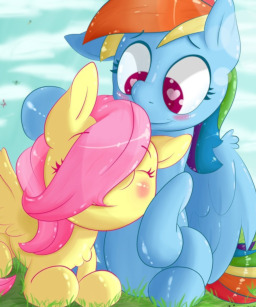 Source
Despite all her boasting and impulsive behavior, Rainbow Dash knows next to nothing about sex, outside of what she (kind of) learned in school. Not only is Fluttershy her first romantic partner, but their first time together would also be Rainbow's first time with anypony.
Fluttershy doesn't know this.
Inspired by Perfectly Not Perfect by Captain_Hairball. Not required for understanding this story, but you should still read it.
My entry for the Springtime Sequel-Slash-Sandbox Switcheroo.
Cover art by TheDerpyEnthusiast.
Chapters (1)