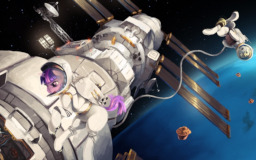 After ripping a large hole in the fabric of reality and wiping out half of the Royal Guard, Starlight Glimmer is sent off alone in the prison ship Equestrian One for 65 months. Alone with nothing but a crew of service/security bots, a Friendship Counseling bot named S.T.R. (who is honestly just a waste of space), and the ships A.I called V.I.C.
During her sentence, she comes across an alien lifeform who seems to be a great face hugger! Wow! But everything soon hits the preverbal fan when a group of bounty hunters working for the (totally evil) Goddess show up demanding she hand over the lifeform!
Will she survive? Who knows, but one thing is for sure.
Things are about to get crazy.
Chapters (1)