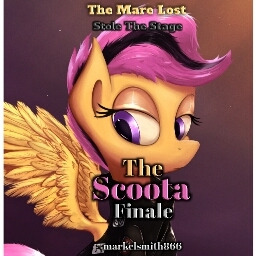 Source
After the devious acts of two individuals and the laughter of ponies as a consequence, Scootaloo runs away, unaware of the mighty future waiting for her. When she loses something vital and is forced to start a new path, the town she once called home is put into tears, regret written all over their name for the previously homeless filly that they believe is forever gone. She was given a memorial in her name, her birthday celebrated each year after her supposed death, as well as guilt that cause them to attempt at doing the unthinkable. Unaware that she is alive......and doing a lot more than well. A story of love, guidance, betrayal, memory, heart, family.....and forgiveness.
*Alternate Universe where Equestria has technology(Customized Electronics, computers made for ponies, turntables, TV, Radio, and some created by yours truly).
---
Part Of The Lost And Found Collection
---
Rating Subject To Change Periodically
Extremely Light & Temporary Gore
Sex Tag Added Due To Very Subtle Sexual Innuendos
Updated Every Friday Evening(7PM)
---
MOST OF THE CHAPTERS ARE DONE! JUST NEED TO PRESS PUBLISH!
No tracks here are owned by me... That may soon change.
I also have a YouTube Channel if anyone is interested. Nothing much since I abandoned it a long time ago and am now just reviving it. But if you want to check it out, Here's The Link.
Chapters (35)