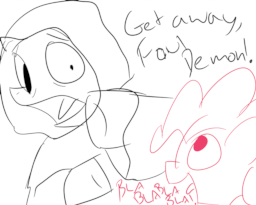 Death is the end of everything. Unless you're Pinkie Pie. In which case, Death will do anything to keep you from dying, so he doesn't have to deal with you. Ever.
Unfortunately, it's never that simple.
---
Oh, hello there. First comedy one-shot in ages that is quite original. At least, I hope.
Do what you will, I think it was a great idea.
Oh, and you see the cover art? Yeah, I did that in about a minute. Pretty good, if I do say so myself.
Chapters (1)