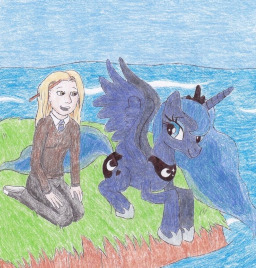 Luna Lovegood is a dreamy girl, who only believes something if there's no proof at all.
And Princess Luna is Princess of the Night, the sister to Princess Celestia and co-ruler of Equestria.
And there's also Discord. Who doesn't need an explanation because it's all in the name.
Nothing could possibly go wrong, could it?
---
Just a fun, random story. That's it, really. It's also dedicated to Cutest Boxer Puppy Ever. Yay for the world's best puppy!
http://pre15.deviantart.net/f354/th/pre/i/2012/147/3/b/princess_luna_and_luna_lovegood_by_spyroforlife-d51bf0j.jpg Here's the link to the cover art. Not owned by me.
Chapters (1)