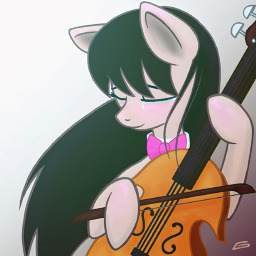 Source
Octavia has become complacent in her everyday life. She struggles with her job, her position in the Royal Canterlot Orchestra, and the back and forth of the Hoops she must constantly dive through to feel 'Successful' . Only to come to terms with herself, that she will not find success in a title. That Happiness is not in a big, dark, empty house every night, with not a friend in sight every time she wishes to socialize.
Her life has been an uphill battle from the day she was born, to where she sits now, her determination unwavering but her hooves becoming stale. Her life is a bore and the world outside of "Her World," Canterlot's Elite, the safety of Big City life, and the countless nobles who only ever attend social gatherings to slap their money around. are boring. Her life has become null and her passion to surpass expectation, void. So. Now she must ask herself, while she can still decide. What must she do in her life to make a difference? For herself? . The only Pony whom she's ever, EVER had to care for?
Change of course. Make that big, scary, leap of faith and try something new. Something unexpected. And break the mold others have made around her.
---------------------------------------------------
This story is about, 3 or 4 years old now I think. I made this story in a grey void in my life, and found some. Inspirational Music by an Artist who has since left the Fandom. You may have heard of him, "Evening Star"
(Edit 6/27/20: He's returned! Sort of- he's remaking all of this music! It's really touching.)
https://www.youtube.com/watch?v=QQ9RPTEkQW4
This story is dedicated to everyone. Even those who don't like Octavia, for whatever reasons you might have.
This story is for everyone. For everyone willing to read it, and for everyone willing to enjoy it, and see it for what it is. I have held this short, meaningless story close to my chest, because it has been my proudest work. And I have kept it in complete and total secret because it was so important to me, because it was how my heart and my mind figured out where I wanted to go with my life. And now, I think is time to give it to you all.
With the Fandom seeming so strange and different than when I originally wrote this story, I think now might just be the perfect time to give it to the Fandom. Though. I know that it won't be likely seen by many, I hope that for those of you who do find it. It will make you smile. Your day will be beautiful and your life will be more colorful.
And may it remind you, of better times. Times from whence you came while looking ahead, at the big and scary new world ahead. May it help you find your path to. "To Something New."
----------------------------
Music By: Evening Star
Art By: Gingersnap913
Story For: Everyone who needs to feel like their world needs to be a better place.
Chapters (1)