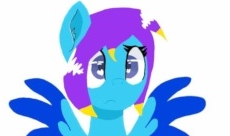 THIS STORY IS UNDERGOING CHANGES AND WILL BE CONTINUED UNDER THE NAME AURORA DAWN AFTER ALL OF MY OTHER STORIES ARE MARKED COMPLETE.
---
When Ella, a teenage girl on the planet of Earth, makes a wish on a shooting star, she ends up in the world of Equestria as a pegasus pony.
Now in an alien body, Ella must figure out how to live as a pony... while trying to find a way home.
---
Human tag for the beginning.
Popular 4-15-18!
FOR THE LOVE OF CELESTIA IF YOU DISLIKE PLEASE TELL ME WHY SO I CAN IMPROVE.
Chapters (2)