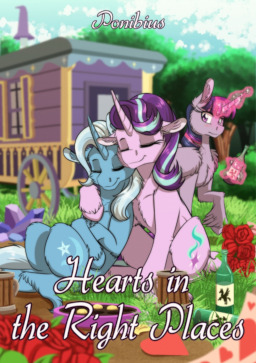 Source
It's hard being a reformed villain. Starlight Glimmer had big plans to change the world for the better. That was until Princess Twilight and her friends arrived in her town and derailed those plans. Now she's living in Twilight's castle on parole, and without a clear idea where she's going in life.
Though a unique opportunity presents itself when Twilight offers her the chance to run Ponyville's Hearts and Hooves Day celebrations, and she agrees to help. With Trixie and Spike by her side, she has new plans for what she sees as an outdated holiday. Pity for her everypony else has different ideas for the Hearts and Hooves Day.
A standalone Winningverse story.
Chapters (3)