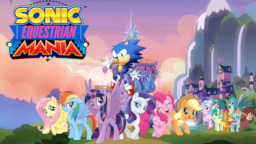 After the Phantom Ruby had been destroyed, Sonic the Hedgehog had expected to land back into his own world and finally find some time to relax. Instead, the blue blur managed to ended up into the magical world of Equestria during the middle of the first ever Festival of Friendship.
However, things quickly take a turn for the worse as the fearsome Storm Army attacks, enslaving everyone in the city and turning three of the four princesses to stone.
Now tasked with collecting the Chaos Emeralds, protecting Equestria, and finding a way back home once more, Sonic will set out on brand new adventures from a grand world expedition beyond Equestria to teaching at the first School of Friendship, but not without the help of some new friends along the way.
Sonic The Hedgehog is owned by SEGA
My Little Pony: Friendship is Magic is owned by Hasbro
Chapters (1)