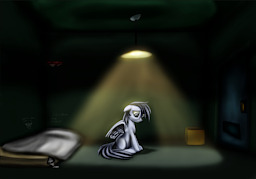 She has no name, no past, and no memories. Day in and day out, she has existed in a small cell. It's all she's ever known. On the surface, she's comfortable with her routine life. But there are questions lingering in her mind. Who is she? Was there ever anything else? Did something happen to her?
When she gets an unexpected visit from a purple unicorn, her world is quickly turned upside down. Is ignorance really bliss?
----------------------------------------
This is my first MLP: FIM fanfic! I hope y'all enjoy reading it.
Chapters (6)