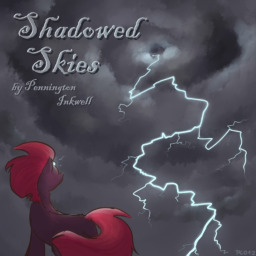 Source
This story is a sequel to "You Do NOT Pass!"
---
The Terram Lenticularis: An ancient and powerful artifact capable of creating entire cloud cities... or destroying them. This is the item Tempest Shadow has been tasked with finding for her first mission as a field-agent-in-training at the New Lunar Republic, with the help of her new friend, Moonstone, and the supervision of her instructor, a "retired" adventurer named Pennington Inkwell.
But when Inkwell's old rival comes looking for revenge, the situation escalates. The stakes grow higher and higher until not only their lives, but the lives of all of Cloudsdale are on the line. Can "Field Agent Tempest" save the day? What secrets will she unearth about the strange pony who's supposed to be teaching her? And most importantly, can she survive the wrath of Full Sails, her mentor's arch rival?
Well, surviving has always been what Tempest Shadow was best at.
((Cover art by the fantastic PC012, go give them some love!))
Chapters (3)