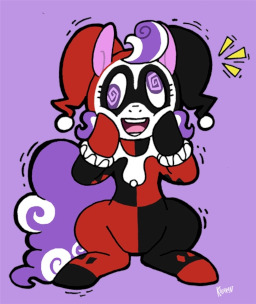 Source
Dr. Scarabew Ballentine(Ponyville's resident Psychotherapist) has time & time again proven to most likely be the best Mental-Health Professional in all of Equestria, but after Discord defeats the Mane 6 in the Hedge Maze, then goes to turn Ponyville into the Chaos Capital of the World, he'll really put her skills to the test, can she solve Discord's problems & convince him to not bring all of Equestria into Eternal Chaos, or will she just end up becoming another one of his chaotic victims, or will something else completely unexpected happen between these two?
As you can tell by the title this story is a "What if..?", meaning that it takes place in an Alternate Reality, so it is Not Canonical with any other story that I or Anyone Else has already created.
P.S. I take no credit for the Cover Art, it rightfully belongs to Captain-Waterfire, I just liked it So much that I simply Had to use it for this story.
Chapters (20)