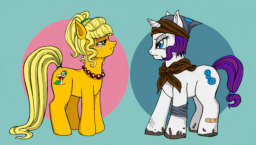 Source
Rock's as solid a unicorn can be without being an earth pony. Then most of a life time growing up in a mine is going to leave a whole bunch of rough edges. Still Rock's always figured that it was pretty good preparation for when the sun went down for the last time ever over a year ago.
Now though she's stuck in a whole other Equestria and there's another unicorn that looks just like her that also lives in Ponyville. Just she's still calling herself Rarity and is far too prissy for her own good.
Soon she's going to meet other ponies in the same predicament, linked in ways they don't yet understand and try to find a way home to the Equestria that they know.
Course first off she's going to have to work out how to get along with herself...
***
Courtesy of an awesome brony Random Elements now has a tropes page : http://tvtropes.org/pmwiki/pmwiki.php/Fanfic/StrykesRandomElements.
This fic was completed in the week between One Bad Apple and Magic Duel, so consider anything before that as having happened for purposes of this fic and everything after as not happening yet, or at all.
Original chapter publish dates:
Chapter 1 - 24th July
Chapter 2 - 29th July
Chapter 3 - 2nd August
Chapter 4 - 8th August
Chapter 5 - 12th August
Chapter 6 - 30th August
Chapter 7 - 1st September
Chapter 8 - 5th September
Chapter 9 - 9th October
Chapter 10 - 5th November
Chapter 11 - 28th November
Epilogue - 28th November
Chapters (12)