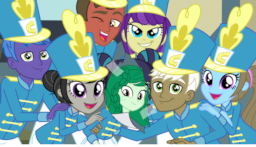 My name is Wallflower Blush. When the Dazzlings arrived at Canterlot High School, little did I know that they would set into motion a series of events that led to the distinct possibility that my band, Wallflower and the Galloping Gala Band, could win the Battle of the Bands and claim eternal bragging rights and high school immortality.
Of course, our first obstacle on our path to greatness would have to be Twilight Sparkle and the Rainbooms.
This story also features Beauty Brass, Frederick Horseshoepin, and Parish Nandermane as main characters.
Chapters (1)