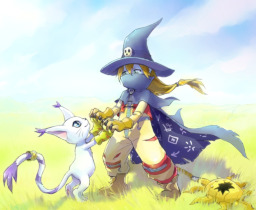 Part of The Digi-Verse!
Pre Reader- Sanguine Dream
Gatomon worked tirelessly to ease Princess Celestia's burden of ruling Equestria alongside Princess Luna.
Wizardmon arrived in Equestria to study magic and found a mentor in Princess Luna.
Every day at sunset these two Digimon come together to talk and enjoy one another's company. From the rise of Nightmare Moon to Princess Luna's return these two Digimon will form a bond with their pony partners and each other to face whatever fate throws their way.
A tale involving two Digimon and the Princesses they call friends.
Chapters (5)