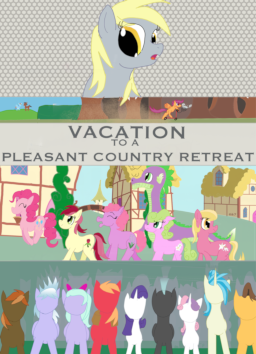 Source
Part of the Wibblyverse Continuity.
Part nine of Doctor Whooves: Friendship is Wibbly Series 1
Previous Story: For Want of a Horseshoe Nail
Next Story: The Legion of Bronze
The Flowershop Crowd is dismayed to find out that their elder sister, Hyacinth, will be visiting. She's an irritating snob, but she is family. Meanwhile, while the Doctor is away in Canterlot, Ditzy, Rarity, and Big Mac must contend with an invasion of mind-switching robot crabs.
Violence tag for battling an alien invasion.
Also features some body-swapping and/or mind control, depending on how you look at it.
N.B.: This story is also crossed over with the classic British sitcom Keeping Up Appearances, which does not have a tag on this site. You need not have seen it to enjoy this story, but if you enjoy your comedy dry, British, posh, a little bit dirty, and utterly mad, then I'd recommend it.
Chapters (3)