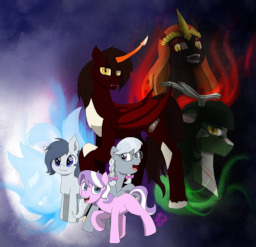 Diamond Tiara is a young filly striving to one day become a savvy businesspony who can help pull her family out of being poor. Even with the radical events of kaiju arriving in her world doesn't shake up Diamond Tiara's day to day routine of going to school and dragging her best friend Silver Spoon along on one money making scheme after another. One day such a get-rich-quick plan sends Diamond Tiara and Silver Spoon to explore the Everfree Forest, where a chance encounter with a strange fox-like being occurs, and an unusual friendship is born.
Based upon Tarbtano's Amalgam'verse and The Bridge, and the Mirrorverse story Sound of Thunder.
Cover image and additional art done by the talented FallenAngel.
Chapters (7)