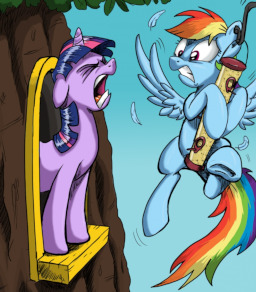 Source
Twilight has a theory about the behavior of pegasus ponies and needs a subject to study. Enter Rainbow Dash.
A short comedy/shipping fic that I've had the idea of floating around my head for a while, I probably haven't done it justice, but whatever, I've actually written something, its a miracle!
Cover art done by : Mattings
PEGASUS PONIES ARE BIRBS CONFIRMED
ALSO FOR THE LOVE OF CELESTIA'S GIANT BUTT IF YOU DISLIKE GIVE FEEDBACK.
Chapters (4)