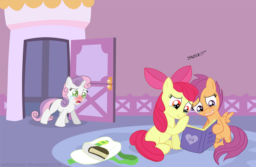 What do you do when your best friends read your Diary? What do you do when they know your deepest and most personal secrets that you don't want anypony to know?
What happens when the 3 closest fillies in Ponyville get into an argument that could end their friendship forever? Find out in this story centered around Sweetie Belle and her diary. Follow the Cutie Mark Crusaders in their quest to become friends again after a big argument leading to them parting ways.
The Cover Picture is another picture from the Deviant Art artist NaterRang.
(Its such a powerful picture I just had to write a fan fiction about it.)
I would like to thank Rendan for rewriting/editing Part 1 of this story, I would also like to thank avorin and my mother for editing and helping me with the rest of the story.
Chapters (5)