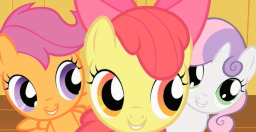 While the shakeup following Operation Whirlwind is still settling out, Princess Celestia invites the newly-formed Cutie Mark Crusaders to perform a reprise of their "award-winning" performance at the Ponyville Schoolhouse Talent Show.
But not everypony is pleased with this display of the three races working together, and with Lieutenant Captain Shining Armor distracted by the hunt for the escaped Agent Snake a new menace finds opportunity to emerge under the snouts of him and his allies, with the Crusaders as their primary target...
Prev: Consequences| Episode 19: The Crusaders | Next: Mission to Appleloosa
New to the series? Start here!
Chapters (8)