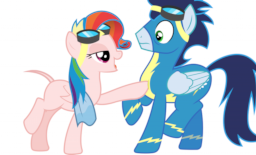 Source
Rainbow Dash decides to shave herself nude to be more aerodynamic, much to the amusement of everyone around her.
She flies the whole Mustang Marathon that way, and beyond, all the while nervous about who will see her nude body. And it will be weeks before it finishes growing back, and that's only if she doesn't need to shave it again for another race.
Cover image was the inspiration for the fic, used with permission.
Chapters (7)