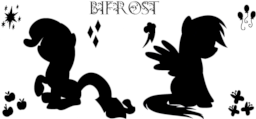 Bifrost. Equestria's most prestigious fighting competition.
This is the stage where a heated rivalry between a forlorn fashionista and a bloodthirsty brawler will be forged into an unbreakable partnership.
Where the light of a punch drunk pink party animal will collide with the shadows of an isolated idealistic intellectual to create a crystal clear constellation in their hearts.
Where a downtrodden but determined workhorse and a cowardly but considerate wallflower will help each other to harvest the seeds of their own strength and grow a beautiful tree of life together.
The road to victory in Bifrost will be fraught with many bloody confrontations against humble farmers, comic book supervillains, bitter illusionists and more, and these six mares will need to overcome the conflicts and grudges brewing inside themselves if they hope to stand against every opponent that they face.
But with pride, solidarity, and magic, perhaps they can carve a path toward a life worth living.
Content Warning: Casual discussions of and references to suicide throughout (though the act itself is never committed).
Chapters (13)