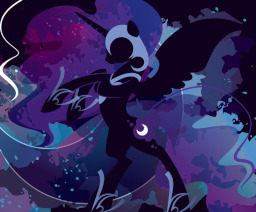 Humans visit Equestria like they own the place, and for a good reason. The Magic Mirror in the depths of Celestia's treasury produces them only when the world is once again in mortal danger.
Luna, after turning into Nightmare Moon, has been able to understand something in the infinity of this cycle and wants to stop it. But why?
---
Originally written in Russian as Последняя жертва by orc01.
The author doesn't know English well and gave his explicit permission to translate and post the story. The translation is an independent work of fiction, and does not constitute theft, self-appropriation of authorship, or disrespect for the work of the original writer.
Edited and preread by way2dawn.
Chapters (2)