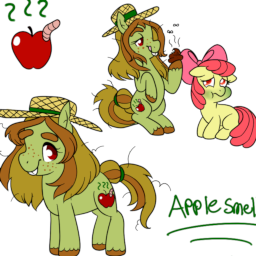 Source
Every family has that one member that just doesn't quite seem right. Apple Smell is that pony for the Apples.
This is a fun yarn that was spun while at BronyCon 2017 by Doodle Noodle, Sapphire, and myself. The character is all Doodle Noodle's in creation from a time she found an old bottle of Bath & Body Works product that had lost all its lettering except for 'Apple Smell'. She and her boyfriend thought that'd be an awkward name for an Apple and, well, Apple Smell was born!
The story is written by me but was developed well by Doodle Noodle. Doodle Noodle is also the artist and does amazing MLP art. Check her out at www.furaffinity.net/user/therainbowtroll or www.furaffinity.net/user/romanticponydream.
Chapters (1)