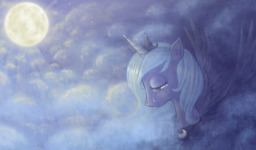 Source
Luna has been plagued by loneliness since she had been banished by her sister long ago. Upon her return, she finds that coffee and her moon was all she needed to feel warm again in the cold landscape of Equestria.
Not a sequel, nor a prequel to Luna's Coffee.
Dedicated to my cousin, Nick. I miss you.
Coveart by tinuleaf. Still amazing art. Check them out!
Chapters (1)