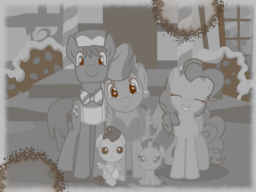 On a clear spring night in Ponyville, when the chirping of early cicada and flutter of dandelion seeds gives way to the lovesong of crickets and the tantalizing elixir of jasmine and lilac, one can see clear to the spires of Canterlot high above. These are nights without fear, where boogeymen take the evening off to play at hackey sack in the thickets, and foals leave their bedroom windows open to giggle away their thoughts of tomorrow while the warm breeze kisses their cheeks goodnight.
On one such night, He who is called Regret stabs a restless mare deeply. With the help of a motherly friend, she will confront Him once and for all.
---
The songs appearing in this story feature original lyrics adapted from the following sources:
1: "Vinny's Lullaby" Karman/Bagdasarian; 1985 (Performed by June Foray for the Alvin and the Chipmunks special: 'A Chipmunk Reunion'.)
2: "Dream a Little Dream of Me", Andre/Schwandt/Kahn; 1931 (Popularized by Mama Cass Elliot with the Mamas & the Papas; 1968.)
#1 was chosen for this story due to a fondness by the author. #2 was chosen because the author frequently sings it as a lullaby, too.
Chapters (1)