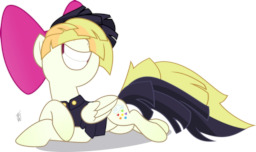 Source
Being a close friend of Prince Blueblood has its benefits. His public perception may be a bit off, but Anton knows the wonderful truth—the guy is a total bro. Through methods unbeknownst to the human, the Prince was able to procure no less than four last minute VIP tickets to the first show of Songbird Serenade's summertime tour—the Crystal Empire.
---
Human x Songbird Serenade romance, because Sia pone deserves some love.
If there's enough interest, I may well write a sequel to this.
Pre-read by JimboTex
Chapters (1)