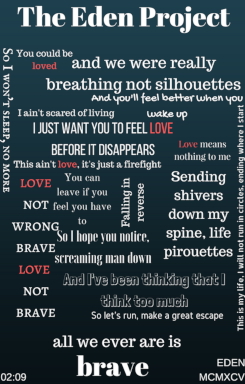 "I heard you talking through the walls late last night, there are no ends just grays and half-lifes..."
This isn't a story about love or heartbreak. This isn't a story that everyone will understand or a story that's meant to be easy to read. It's a story filled with holes, and gaps in times. A story of lies and tears, of grief and friends, and of songs filled with so much meaning that I couldn't explain it all if I tried.
---
---
"Love!"
A pegasus who keeps getting lost while looking for herself.
"Not!"
A pony who's spent his entire life going in circles and would do anything to break the cycle.
"Wrong!"
In between all the lies, circles, fears, and misdirection,
"Brave!"
In the midst of a friendship that's bound to crash and burn and a relationship that would never work, Braeburn and Daring Do learn that sometimes a happy ending just isn't worth fighting for.
Check the Author's Note for more information about what exactly this is.
(The title is uncapitalized intentionally.)
Chapters (22)