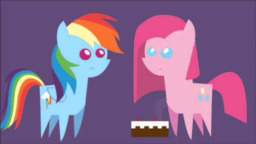 Pinkie loves Rainbow. Pinkie tries to kill Rainbow. Pinkie finds she's not the only one who's crazy.
Psychopaths don't like to share the fact they're psychopaths—besides with the victims locked up in their basement. Pinkie is one of those psychopaths, only she has a victim instead of victims, the one and only Rainbow Dash. Every attempt on her life has been avoided and unnoticed.
Pinkie doesn't mind this game of cat and mouse, and if she didn't know better, she might suspect the same being true for Rainbow. With every attempt, Pinkie gains clarity on her feelings for the pegasus, before finding out the truth.
Apparently, Pinkie isn't the only one who's crazy.
---
Inspired by this video.
Chapters (1)