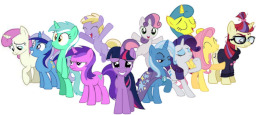 Poor Twilight Sparkle: pride and joy of the University of Eohippus, she is in charge of a team of the most brilliant unicorn minds (plus Fluttershy) of her generation. So it's a shame they're also at least six kinds of deranged and ten kinds of embarrassing.
There's Twinkleshine, whose girly-girl demeanour masks an ambitious monster. There's Moondancer, who's about as social as an oyster, and Lemon Hearts, who's about as charming too. There's Lyra Heartstrings, whose research barely qualifies as sense, never mind as science. And then there's Sweetie Belle, who should totally be in school but who'd much rather hone her skills as the world's worst personal assistant secretary fangirl... thingy.
However, this is merely the start of Twilight's problems. In the midst of mad science and a city overstocked with adventure, she'll confront MIA mages, enigmatic infernos, freaky furniture, political plots, hush-hush histories, and worst of all... the fact that she is destined to solve everything.
Oh, and Trixie's in there somewhere.
It's totally gonna go wrong.
Chapters (13)