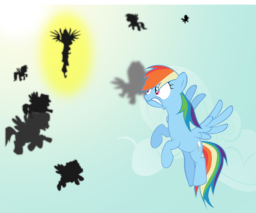 Source
Future Wonderbolt, coolness incarnate, and all-around awesome. Is it any surprise that everypony wants a piece of Rainbow Dash?
Not that she wants anypony to take a piece, mind you. All she wants to do is live her life. That's something she finds pretty hard to do when everypony she meets falls in love with her on sight, though...
A day-in-the-life story about an awesome pony in a crazy world.
Artwork by laberoon.deviantart.com
Chapters (7)