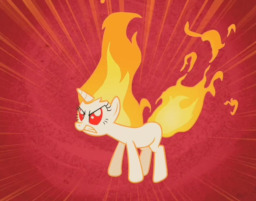 In a world where ponies are blessed with superpowers directly influenced by the colour of their eyes, you can tell what somepony is able to do just by looking at them.
Until today, I thought I had seen it all...
My name is Foris, An earth pony from Manehatten. Since the last full moon select ponies have been endowed with powers which seem to directly correlate with the colour of their eyes.
Brown eyes grant you the power to control the earth beneath you. You can create, destroy, or simply move the earth around.
Blue eyes allow you to control water, you can summon it from entities all around, and can command it to do whatever you wish.
Green eyes let you manipulate air. You can create vast storm systems if you are powerful enough, or you can stop a tornado in its path.
Hazel eyes allow you to control nature, you can bring the trees and plants themselves to life, and have them do your bidding.
If the colours are mixed then you have control over both of the effects, to a certain extent, and can blend them into one.
Chapters (2)