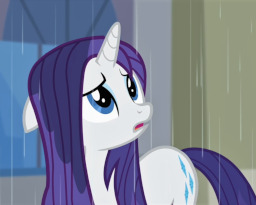 This 'Earth' is so close, and yet so far from anything Twilight described on the other side of that mirror. How is Rarity going to get back to her home when she can't understand anyponybody? And didn't Twilight say she became human, and humans didn't use magic? Yet clearly some did... and that wasn't even counting all the devices that might as well have been magical, as far as Rarity was concerned.
Who knew one strange little gem could cause so many problems? They'd taken it from her after it'd brought her straight into a lab for study, but... If she ever found it again, she was definitely going to let Spike eat it. As soon as she got home. And by Celestia, she was going to get home!
...Will Rarity ever find her way home? Is the gem that brought her to Earth the key, and is there more to the factions maneuvering around her appearance?
To complicate matters, this is an Earth recovering from its first alien invasion (Rarity being technically the second, then). ...Or does that actually explain things? No, no it doesn't. But it will.
------------------------------------------------------
To go with the Teen rating (or rather to explain it) there is light profanity and violence. I don't believe either are at a level where the warning tags are needed, but I'll mention it at least.
There may be some darker, more explicit moments in flashbacks, but I'll save those for Interludes.
Chapters (29)