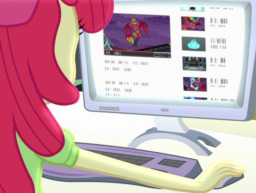 Sunset and her friends had no idea that Anon-a-Miss was a plot to break them up. They had no idea that it was targeting Sunset. When Apple Bloom was outed as Anon-a-Miss the account had leaked all of one secret, and everyone believed it was simply a younger sister having fun at her older sister's expense.
They certainly had no idea Apple Bloom would respond to Anon-a-Miss' failure by resorting to a Plan B that had all the subtlety of a Plinian eruption and all the precision of a hurricane.
What they do know is that in one night the veil of secrecy around magic at CHS was obliterated when a video of Sunset Shimmer, with full demonic transformation, doing physically impossible things exploded across the internet.
Now they have to prepare for the fallout, even though they have no idea what form that will take.
---
[Everything that follows is real world stuff about where the story comes from.]
[Definitely not required reading.]
When you become unexpectedly popular for writing a story in a certain genre, you end up being exposed to more and more of what's in that genre, and your imagination runs away with ideas you encounter as a result, and suddenly what was meant to be a topic you touched for one or two stories at most instead becomes a mainstay of your corpus.
I was most definitely not looking for a new Anon-a-Miss fic. I've got two that have already been released and two in the oven, which makes four that I need to finish. I had no particular desire to start number five.
Then I encountered this idea. The idea in short:
Anon-a-Miss falls apart almost immediately with almost no damage done, which you would think is like dodging a bullet given how the genre tends to go, but because the underlying cause isn't dealt with it doesn't avoid the problem at all. It amplifies it by having Apple Bloom resort to releasing the one bombshell secret that was originally so far off the table it wasn't even considered.
---
Here's why it interested me enough to start up a new story:
The idea of the magic at CHS being exposed to the world presents seemingly infinite possibilities in itself, but there's also the fact that Anon-a-Miss occurs at a key juncture in the timeline. The human Twilight Sparkle is already on the case. If nothing major changes then you get The Friendship Games but changes could result in things that range from full blown apocalypse to her equipment never malfunctioning in the first place.
---
Credit must be given:
Uria came up with the idea at five AM with the help of fatigue and Pringles. Even now, as we speak I type this, a shadowy group of individuals are operating in a loose coalition in an attempt to bring that idea, kicking and screaming as it may be, into some form of reality and then unleash it upon the world.
This story is emphatically not the fruit of that particular labor. This is just me writing my version. That is, in part, why this isn't called "Your Past Is Here To Stay"; I wanted that title to be reserved for the official version created by the collaborating cabal.
None the less, this is inspired by Uria's idea, the first chapter extremely so, and credit must be given. Also, given my ties to the currently undisclosed syndicate working on the official realization of Uria's idea, there will probably be a fair amount of cross pollination between this story and the eventual "Your Past Is Here To Stay".
Chapters (2)