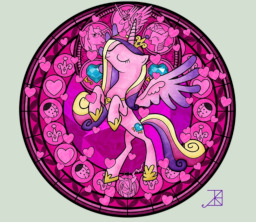 Source
The world is a big place with big problems, and frankly, the Elements of Harmony can't always be there to fix it. When a dark magic threatens the Crystal Kingdom, Princess Cadance is forced to bring together six complete strangers into a group called the Elements of Love. Unfortunately, battling an unknown entity together may not be the easiest thing for a couple of strangers to handle...
Pic from Akili-Amethyst on DeviantArt.
Gave this an AU tag, since this story was written before the Crystal Empire backstory was established. Assumes that the Crystal Empire has always been there, and Cadance ruled for quite some time.
Chapters (21)