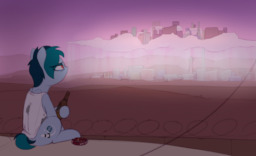 Source
This story is a sequel to Any Landing You Can Walk Away From...
---
Delta had a particularly rough winter holiday.
Not that they weren't always rough, what with all the emphasis on family, happy-times, and love... while she spent most of her holidays bar-diving and drowning her loneliness in booze... but this year was especially bad.
Things had seemed to be getting better for her - she was connecting more with her daughter, was starting to cut back on her drinking (admittedly, only a little... but still!)... and then the dreaded day had arrived and left her feeling alone, unloved, depressed... devastated.
Dragging herself out of bed on New Year's Eve a few days later, she prepared for more of the same...
But perhaps a certain yellow filly can turn things around for Delta, and help her to start the New Year on a high note?
Yup!
CONTAINS NO CLOP - Only innuendo, coarse language, and implied sexual themes.
Featured on 01/06/18!
Chapters (1)