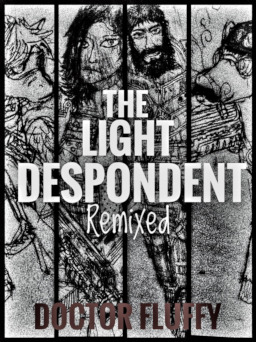 This story is a sequel to The Slow Mutants
---
This is a reboot of my earlier story Light Despondent. Or, like I'm going to call it, a remix! It's got a lot of the same beats, but some parts happen earlier, and there's entirely new parts added. With more chapters from the perspectives of others, a little more plot, and the benefit of not making this up as I go along.
Viktor Kraber is one of the worst of the HLF. He's a traumatized Afrikaner, former father, and former surgeon with an appetite for destruction and big guns. But one day, wracked by guilt at an HLF checkpoint, he lets a lost filly and her mother live. From that point on, his life goes to hell (more than usual, anyway) as he tries to cast aside hatreds in a world gone mad, and maybe, just maybe, become a good person. Can he? FOR THE LOVE OF GOD, CAN HE?! Of course he can, it's a prequel.
Aegis is going to be Kraber's best friend. But he doesn't know (or want) that yet. All he wants is a quiet life where he can help on the farm, and raise his foals away from the Solar Empire's propaganda, from an Equestria that's become unrecognizable to him. But, with the PER and HLF coming to blows, the PHL and US Government struggling to maintain order, and the slow collapse of society, it's not going to work out and he knows it.
Yael Ben Ze'ev is a member of the heroic Ponies for Human Lives, (or PHL) a group of humans and ponies, supported by the UN, who work tirelessly to save humanity by blending technology and magic. Putting it bluntly, she's the person whose job it is to shoot people like Kraber. She's seen every terrorist group and then some cause trouble even before they turned evacuation from the Barrier into a nightmare - and she's absolutely convinced she can't trust any of the HLF because of it. She has no idea how wrong and right she's going to be, as the PHL resorts to more and more extreme measures to confront the threat of both PER and HLF.
Heliotrope used to fight for the Solar Empire, during the Crystal War and Changeling Purges. Then she quit - or, more accurately, was stranded on a planet she was growing to like. Now, she fights for the PHL alongside Yael, her best friend. Though she doesn't know how long that'll last, as she's frightened of her friend's growing radicalism.
Dayoung Tengku grew up knowing the HLF were heroes. Idolizing them for fighting where the PHL wouldn't. Nursing a fierce grudge against any pony for what their race has done. She's going to have a hard lesson in just how the HLF aren't the best heroes to follow.
Leonid Lovikov is the man who leads Kraber's HLF branch, the Menschabwehrfraktion. He's been a major player in the HLF, ready to kill anything in sight, run protection rackets, and do anything to protect the HLF. But he wants more, and he has plans that could shake the world.
Shieldwall is a PER pony who answers directly to Celestia, and one of the most dangerous potioners out there, with a list of ponifications and confirmed kills a mile long. But, like Lovikov, he wants more. He has designs that could destroy the PHL, in the form of the mysterious Project Fillydelphia...
Chapters (12)