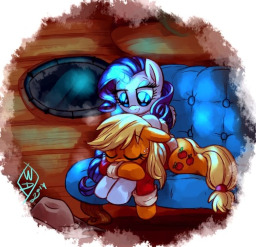 Rarity has nowhere to go on Hearth's Warming Eve, so she decides to pay Applejack a visit at Sweet Apple Acres. She should have known that they'd end up arguing.
Together, the two mares must find a way to salvage the evening. And Rarity has to figure out how to keep hiding her crush on Applejack - a task getting harder by the minute.
Or maybe tonight's the night she should finally confess...
Written solely because I needed some fluff in my life. Also, cover art by me. Haha, just kidding. I don't know who drew the art, but it's beautiful, so please let me know if you do!
Chapters (1)