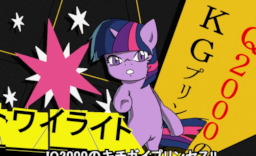 Source
My name is Terrence Thurston. I had just gotten fired from my job yesterday and wasn't really sure what to do about it. Was gonna go to a job fair I read about online...
...but then some dude with huge bug eyes, a wickedly long nose, and a creepy-ass grin decided to open a Ye Olde Tavern outside my bedroom door. Why is everything in there blue? Beats the hell outta me.
I have NO idea what the hell is going on... but I'm surprisingly okay with it.
Can't say the same for the purple unicorn, though.
---
This is basically an original Persona story of my own making using an OC of my own making. Takes place before Twilight heads to Ponyville for the first time.
Cover art done by ankou.
Chapters (6)